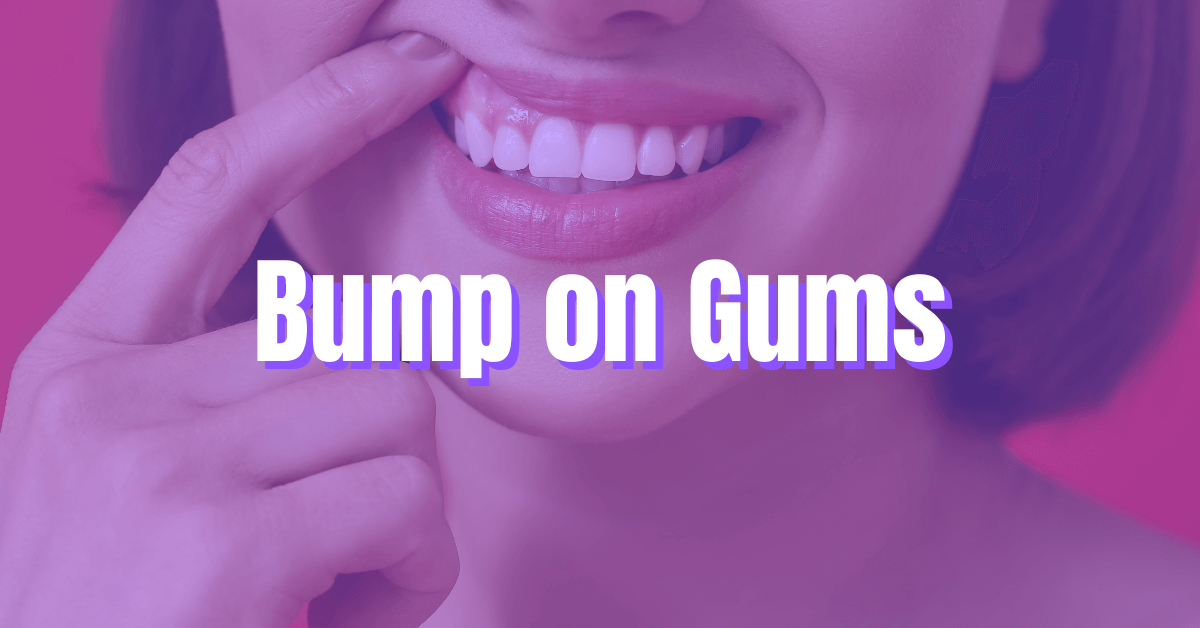 Gum pain and irritation are something many people will experience at one time or another. Gum pain and irritation can be caused by plaque buildup and other bacteria. Moreover, the gums can also become red and bleed from this buildup. What about a bump on your gums. Therefore, you need to continue reading to learn more. Although a bump on your gums is alarming, it is usually not an emergency.
Symptoms of Bumps on Gums
Also known as abscesses, boils, or bumps on the gums. Bacteria usually cause this problem. The boil, although rare, could also indicate oral cancer. Usually, pain is the first sign that you have an infection in your gums. It may also be visible in the mirror or feel it with your tongue.
Bad breath

Bleeding

Swollen gums

Fatigue or fever

Pus discharge

Sensitivity to cold and hot temperatures

Nausea

Earache
Although these symptoms may not necessarily indicate a gum boil. Also, it is good to visit your dentist to confirm.
[Read more: What Is The Importance of Amino Acid to Your Health?]
How Can Your Dentist Treat the Problem?
A gum boil can usually be caused by poor oral hygiene. It can also fix it with regular brushing and flossing. Your dentist might prescribe antibiotics along with other treatments such as:
A denture adjustment may be necessary if the dentures are not fitting properly.

Root canals are recommended if tooth decay is the cause.

Deep cleaning for the cause is bad gums.
Causes of Bump on Your Gums
1. Cyst
Cysts are small bubbles that contain air, liquid, or other soft material. Dental cysts may form around your teeth and gums. Moreover, dental cysts usually start around the roots or buried teeth. They usually develop slowly and don't cause symptoms unless they are infected. Therefore, you might feel some swelling and pain around the bump if this happens.
A large cyst can put pressure on your teeth and cause damage to your jaw. You can remove most dental cysts with a simple surgery. Additionally, your doctor can also treat decayed roots to prevent cysts from coming back.
2. Abscess
A periodontal abscess is an abscess that occurs on the gums. Bacteria usually cause these small pus-filled cysts. Also, a spot can feel like a warm, soft bump. Dental abscesses can be very painful.
A sudden, intense, and also constant throbbing pain that gets worse.

The pain radiates from one side to the ears, jaw, neck, and neck.

Pain that worsens when you lie down.

Reddening and swelling of your gums or skin.
A periodontal abscess is a condition that requires immediate treatment by a dentist. They will be able to drain the pus and remove the source of infection. They may have to extract a tooth or do a root canal, depending on the severity of the infection.
[Read more: Metal Braces versus Invisalign: Which is Best?]
3. Canker sore
Canker sores can be small, infected mouth ulcers. These are different from cold sores, which are caused by a virus. Also, they are usually harmless but can cause severe pain if they infiltrate your mouth.
White or yellow spots with a red border.

Flat or slightly elevated bumps.

severe tenderness.

Pain while eating or drinking.
4. Fibroma
The most common cause of gum tumors is an oral fibroma. Fibromas form when the gum tissue becomes irritated or has been injured. Moreover, fibromas can occur on the gums due to irritation from dentures and other oral devices. They may also appear:
Inside your cheeks

Under dentures

Your tongue should be pointing outwards

On the inside of your lips
Fibromas are not painful. Fibromas feel like lumps with a dome-shaped shape. Sometimes they can look like dangling skin tags. They can appear darker or lighter than your other gums.
5. Pyogenic Granuloma
An oral pyogenic tumor is a red lump that forms in your mouth and gums. The bubble appears as a red, bloody, swollen bump that bleeds easily. Although doctors aren't sure what causes them, they believe minor injuries and irritation may play a part. Additionally, they can also occur in pregnant women, suggesting that hormonal changes may also play a role. Pyogenic granulomas are often:
It's painless

Soft

Deep red or deep purple
The treatment involves the surgical removal of lumps.
6. Mandibular Torus
It is a bony growth in the upper or lower jaw. Although these bony lumps are quite common, doctors don't know what causes them. Mandibular tumors can occur in one or multiple locations. Additionally, they can appear on either one or both of your jaws. They are most common on:
The inside of your lower jaw

Around the sides of your tongue

Your teeth can be placed below or above the gums
Mandibular tor can take many forms and grow slowly. They are usually hard to the touch and require little treatment.
7. Oral Cancer
It is also known as mouth cancer. Also, it affects any part of your mouth, including your gums. Moreover, a small growth, lump, or thickening on the skin could indicate a cancerous tumor in your gums. You may also experience the following symptoms from oral cancer:
A sore that will not heal

A bleeding sore

Sore throat

A white or red spot on your gums

tongue pain

Loose teeth

Jaw pain

Trouble swallowing or chewing

Pain when swallowing or chewing
If you are concerned that your bump may be cancerous, consult your doctor. Your doctor can perform a gum biopsy, and the doctor will take a small amount of tissue from the bump to check for cancer cells. Your doctor will discuss the best treatment options if your bump is cancerous. Radiation therapy, chemotherapy, or surgery are used to treat the bump.
[Read more: Proteins to Gain Muscle Mass]
Home Remedies for Gum Boils
There are ways to relieve your symptoms at home, even though it may seem counterintuitive. If you can't see your dentist for treatment, these are some options:
Saltwater is most useful to gargle.

Rinse with garlic oil.

Rinse your mouth with a 50-50 mixture of hydrogen peroxide and water

Can be applied tea tree oil or clove oil to the affected areas.
Therefore, Gum boils can be unpleasant and painful, but they don't have to be the end of the earth. Gum boils can be treated, even if they indicate oral cancer.
Conclusion
Most gum bumps will disappear in a matter of days. An abscess may be a sign of something more serious. If there are persistent, painful, or other types of lesions within the mouth, it is essential to see a doctor. Certain conditions, such as abscesses and cancerous growths inside the mouth, require immediate medical attention. Moreover, a better outcome is usually achieved with early treatment.